The Mini dump truck order is finished and ready for delivery. The Mini dump truck is one popular dumper series, only this year, we already export more than 100 units these mini dump trucks to different countries. Good performance ,economical and practical price, and nice appearance make it popular in the truck market.
Dump truck is a vehicle that unloads goods by itself through hydraulic or mechanical lifting. Also known as dump truck.It is composed of automobile chassis, hydraulic lifting mechanism, cargo compartment and force taking device.The vehicle frame is molded by stamping and this guarantees the strength of the crossbeams.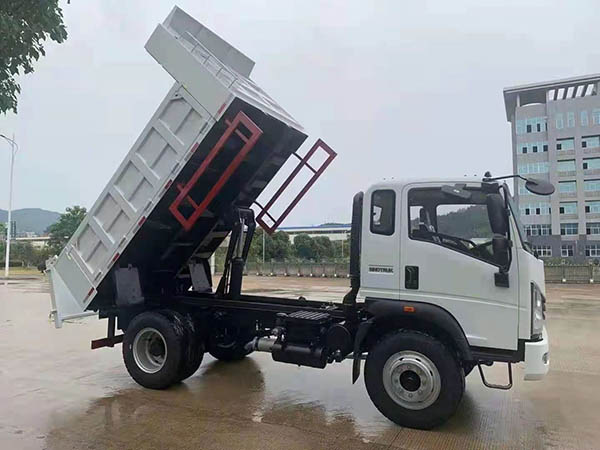 The axle technique unique to vehicles boasts of features such as high reliability, fuel economy, high attendance rate, strengthened structure, large cargo capacity, all making it suitable for engineering projects such as road and bridge construction, water conservancy projects.
These Mini dump trucks are usually used to transport small size goods or transport the concrete or bricks from the source up to the construction site. Oftentimes, these mini dump trucks make multiple rounds back and forth to complete the construction materials delivery.
01. Specialized in trucks industry for many years, we know what trucks are for, and what the customers really need. We can recommend the specification for customer.
02. Our trucks and trailers are exported to more than 60 countries and areas, such as Philippines ,Russia,Africa, South East Asia, North Asia, Middle East, South America and so on.
03. One-stop service for all the trucks and trailers from China, we have one service station abroad ,and supply first time service to customer.
04. we have wide range of products ,can meet the customer project requirement.
Trucks:Tractor Truck, Dump Truck, Concrete Mixer Truck, CNG Truck, Cargo Truck, Tank Truck, Garbage Truck, All-Wheel Drive Truck, Special Vehicles, Bus. Trailers: Flat bed, Low bed, VAN, Warehouse, Tanker, Car carrier, Logging, Tipper, etc.
---
Post time: Jul-30-2021